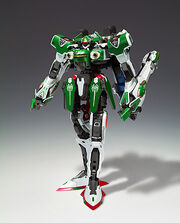 Corresponds to Vector Luna as the head, Vector Mars as the back, and Vector Sol as the legs. It specializes in ranged combat, with the ability to wield a bow and arrows, or as another form to partake in melee situations, given the Aquarion Luna's agile movement and reflexes. It too can manifest a set of wings on its back. It is mostly used by Silvia de Alisia and Reika.
Aquarion Delta
Corresponds with
Vector Delta
as the head,
Vector Omega
as the back, and
Vector Alpha
as the legs. It is the equivalent of the Aquarion Luna. Taking a similarity to the Aquarion Luna's bow, the Aquarion Delta specializes in long-range combat through a complement of rockets that fire from its own customized bow and can also utilize the Aquarion Omega's machine guns, mounted on the same part as the rockets.
Ad blocker interference detected!
Wikia is a free-to-use site that makes money from advertising. We have a modified experience for viewers using ad blockers

Wikia is not accessible if you've made further modifications. Remove the custom ad blocker rule(s) and the page will load as expected.