Ad blocker interference detected!
Wikia is a free-to-use site that makes money from advertising. We have a modified experience for viewers using ad blockers

Wikia is not accessible if you've made further modifications. Remove the custom ad blocker rule(s) and the page will load as expected.
Genesis of Aquarion (創聖のアクエリオン Sōsei no Aquarion) is the first opening theme of the Sousei no Aquarion anime. Through its uprising popularity, it became the universal themes song of the anime series franchise of the same name.
Originally performed by J-Pop singer, AKINO, the song was remixed into other variants and recomposed by other artists, including Masaaki Endoh and Yoko Ishida.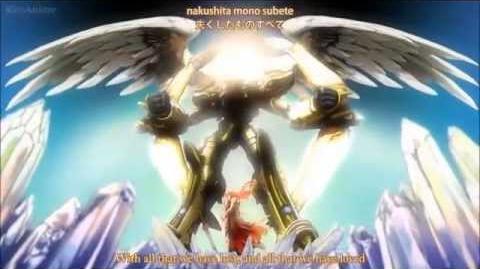 Other versions and Albums
Element Gattai Ver. (エレメント合体Ver. Eremento Gattai Ver.), by Apollo (Takuma Terashima), Silvia (Yumi Kakazu), Hong Lihua (Sanae Kobayashi).
(熱輝合体Ver. Nekki Gattai Ver.) by Yoshiki Fukuyama of JAM Project.
Genesis of Aquarion - A Capella, by AKINO and Bless4.
Track List
Original Single
"Genesis of Aquarion" (創聖のアクエリオン Sōsei no Akuerion) – 4:44
"Pride ~ Nageki no Tabi" (プライド〜嘆きの旅 Puraido ~ Nageki no Tabi, "Pride, A Journey of Grief") – 4:35
"Genesis of Aquarion (Little Mix)" – 1:01
"Genesis of Aquarion (Instrumental)" – 4:42
Lyrics
Sekai no Hajimari no hi Inochi no ki no shita de
Kujiratachi no koe no tooi zankyou Futari de Kiita

Nakushita mono subete Aishita mono subete
Kono te ni dakishimete Ima wa doko wo samayoiikuno

Dotae no hisomu kohaku no taiyou
Deawanakereba atsuriku no tenshi de irareta
Fushinaru matataki motsu tamashii
Kizutsukanaide boku no hane
kono kimochi shirutame umaretekita

ichimannen to nisennen mae kara aishiteru (I love you)
hassennen sugita koro kara motto koishikunatta
ichioku to nisennen ato mo aishiteru (I think of you)
kimi wo shitta sono hi kara boku no jigoku ni ongaku wa taenai

Sekai ga owaru mae ni Inochi ga owaru mae ni
nemuru nageki hodoite Kimi no kaori dakishimetaiyo

mimi sumaseta wadatsumi no kioku
shitsui ni nomare tachitsukusu uruwashiki tsuki
yomigaere towa ni karenu hikari
yogasarenaide kimi no yume
inori yadoshinagara umaretekita

ichimannen to nisennen mae kara aishiteru (I love you)
hassennen sugita koro kara motto koishikunatta
ichioku to nisennen ato mo aishiteru (I think of you)
kimi wo shitta sono hi kara boku no jigoku ni ongaku wa taenai

kimi ga kurikaeshi otona ni natte
nando mo nando mo tooku e itte
mimamoru boku ga nemurenai boku ga
kushakusha ni nattatoshitemo
kimi no na wo utautame ni...

ichimannen to nisennen mae kara aishiteru
hassennen sugita koro kara motto koishikunatta
ichioku to nisennen ato mo aishiteru
kimi wo shitta sono hi kara...
ichimannen to nisennen mae kara aishiteru (I love you)
hassennen sugita koro kara motto koishikunatta
ichioku to nisennen tatte mo aishiteru (I think of you)
kimi wo shitta sono hi kara boku no jigoku ni ongaku wa taenai
世界の始まりの日 生命(いのち)の樹の下で
くじらたちの声の遠い残響 二人で聞いた

失くしたものすべて 愛したものすべて
この手に抱きしめて 現在(いま)は何処(どこ)を彷徨(さまよ)い行くの

答えの潜む琥珀の太陽
出会わなければ 殺戮の天使でいられた
不死なる瞬き持つ魂
傷つかないで 僕の羽根
この気持ち知るため生まれてきた

一万年と二千年前から愛してる (I love you)
八千年過ぎた頃からもっと恋しくなった
一億と二千年あとも愛してる (I think of you)
君を知ったその日から僕の地獄に音楽は絶えない

世界が終わる前に 生命(いのち)が終わる前に
眠る嘆きほどいて 君の薫り抱きしめたいよ

耳すませた海神(わだつみ)の記憶
失意にのまれ立ち尽くす麗しき月
よみがえれ 永遠(とわ)に涸れぬ光
汚されないで 君の夢
祈り宿しながら生まれてきた

一万年と二千年前から愛してる (I love you)
八千年過ぎた頃からもっと恋しくなった
一億と二千年あとも愛してる (I think of you)
君を知ったその日から僕の地獄に音楽は絶えない

君がくり返し大人になって
何度も何度も遠くへ行って
見守る僕が眠れない僕が
くしゃくしゃになったとしても
君の名を歌うために…

一万年と二千年前から愛してる
八千年過ぎた頃からもっと恋しくなった
一億と二千年あとも愛してる
君を知ったその日から
一万年と二千年前から愛してる (I love you)
八千年過ぎた頃からもっと恋しくなった
一億と二千年たっても愛してる (I think of you)
君を知ったその日から僕の地獄に音楽は絶えない
On the day the world began, under the tree of life
The two of us heard the faraway echoes of the whales' voices

All the things I lost, all the things I loved
Embracing them in these hands, where will I wander to now?

The amber sun in which the answer lurks
If we hadn't met, I would have remained an angel of massacre
In the soul that holds the sparkle of immortality
Don't hurt, my wings
I was born to know these feelings

I've loved you since ten thousand and two thousand years ago (I love you)
I grew to love you more in the days when eight thousand years had passed
I'll still love you after one hundred million and two thousand years (I think of you)
From that day I knew you, music won't cease in this hell of mine

Before the world ends, before life ends
I want to undo this sleeping grief and embrace your scent

I carefully listened to the memories of the sea god
Swallowed by despair, the beautiful moon remains at a stand still
Arise, oh light that dried up in eternity
Don't let your dreams get soiled
I was born while dwelling in a prayer

I've loved you since ten thousand and two thousand years ago (I love you)
I grew to love you more in the days when eight thousand years had passed
I'll still love you after one hundred million and two thousand years (I think of you)
From that day I knew you, music won't cease in this hell of mine

Once again, you become an adult
over and over you grow farther away
As I watch over you sleeplessly
Even if I were to become crumpled
I'll sing your name because....

I've loved you since ten thousand and two thousand years ago
I grew to love you more in the days when eight thousand years had passed
I'll still love you after one hundred million and two thousand years
From that day I knew you...
I've loved you since ten thousand and two thousand years ago (I love you)
I grew to love you more in the days when eight thousand years had passed
I'll still love you even if one hundred million and two thousand years pass (I think of you)
From that day I knew you, music won't cease in this hell of mine
Notes
After its release and subsequent re-release for the Genesis of Aquarion pachinko game, it became very popular in Japan and was awarded the silver medal in the JASRAC awards for 2008.
Its initial release resulted in a peak at #22 on the Oricon's weekly charts.
With its continuous popularity, the song has been successful in the Japanese internet communities, as cellphone downloads, platinum ringtones and PC downloads as of 2011